PastorsLine vs. One Call Now
Which describes your church communication system?
One-way - We send out announcements, prayer requests, event reminders, etc.
Two-way - We do all that but we ALSO actively capture new visitor data (digital connect cards), get regular feedback from our church members, run contests to keep our church community engaged, etc.
Churches that want to just push announcements (aka text/voice blasting) are going to be satisfied with One Call Now.
Churches who want to engage and grow will prefer a solution like ours: PastorsLine.
To help you understand the clear differences, we decided to do a comparison between PastorsLine and One Call Now.
After checking out the details, have a look at the comparison chart at the bottom.
For sure, we have a definite opinion on which platform your church should choose. Having said that, we have done our best to present accurate and up-to-date facts. In the event you feel we have made a mistake or misrepresented anything, please call and let us know (800) 260-9705 or send us an email ([email protected]) so we can clear up the confusion.
So, here's the bottom line.
One Call Now is an outward-bound communication system. It allows you to effectively send text and voice messages to your church community.
PastorsLine is a two-way communication system, more like the way we humans naturally connect and engage. The added features, which allow your church community to text back to you and your team, mean that you can build deeper, more natural relationships via an essentially digital medium.
How does PastorsLine do that?
1. Say goodbye to short codes.
Short codes were great for their time but now texting has grown up to long codes. Why? Long codes are familiar (essentially a regular telephone number), have a less spammy reputation, and now can be virtually unlimited, so you have complete control over who is sending what to your contacts. (Completely check out the issues with short codes here.)
2. Texting has matured quite a bit.
We can now capture data in a non-intrusive, digital way with advanced autoresponders. An autoresponder is a personalized, digital, communication series which you build to suit your purpose. One great example is for first-time visitors to your church.
Let's see what that might look like…
In the entrance or lobby of your church is a first-time visitor poster. In addition to the welcoming graphics is either a scannable QR code or a number to text "Welcome" to. Your first time visitor chooses to text "Welcome" and the PastorsLine (PL) autoresponder which you have created automatically begins: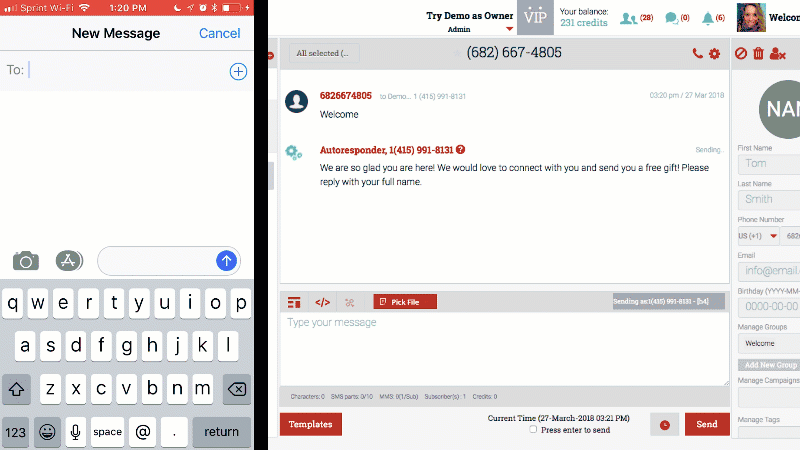 And that's it! Anne has not fallen through the cracks. In a human, non-spammy, organic way, she has successfully been added to your contacts list, including a lot of good, personal information to help with future communication: birthday wishes on her special day, a back-up plan (email) in case Anne appears to have forgotten or lost her phone, a contest to encourage her to attend an event or join a small group, and when she attends, live polling to get real-time feedback about what she thinks or needs.
Of course, all these options are not just for your first-time visitors. They are for all your church members, too.
3. The name of the game is integrations.
Our philosophy is that churches should build a digital communication strategy using the best platforms and apps for the job. To support that, we have added programming so that PastorsLine integrates with many of the platforms you are already using.
Already, this platform seamlessly integrates with Planning Center Online (PCO) and Church Community Builder (CCB). MailChimp is planned and we are looking into the feasibility of Slack. Following user feedback (which we always pay attention to), more integrations are in the works such as Zapier.
Why are we so keen on integrations?
Different platforms and apps have different strengths. A great example is email: PastorsLine doesn't make MailChimp users switch to its internal limited email system but let's them stick with the platform they know and love. We know we can't recreate email solutions but we can do what we do best—text.
4. Our digital strategies need to be data-driven.
Engagement and good storytelling is nice but we need to connect the dots. We need to prove that such-and-such a campaign or event moved X number of people to next steps closer to Christ. That's why churches today need more than basic analytics and reporting. They need advanced capabilities—like those we've built into PastorsLine.
PastorsLine is priced for church communication. Comparing apples to apples, PastorsLine's adjusted cost for 1500 texts is $42 per month. We use a credit system which allows you to buy another bucket of 'never expire' credits whenever needed.
Looking for something more start-up? Our Inception basic plan is only $10 a month.
We have clients on this basic plan who are texting champions and don't even use up all their credits each month. We also have clients on this basic plan who have got 50-75-100,000 contacts in our database.
Why don't we offer an unlimited texting plan?
PastorsLine believes in being truthful, not using marketing ploys.
The simple truth is that if a company is offering you unlimited texting, look for a limit somewhere else...such as capped number of contacts, reduced text speed, annual contracts you cannot cancel and use of mostly short codes.
Another limit is the one imposed by the mobile phone carriers who have their radar fine-tuned for text blasting. To them, that's roughly over 500 msgs/day, over 100 msgs/hr, and over 25-50 per time per number. Exceed these numbers and you can find your phone number blocked. (We've found a solution though.)
Learn more about why unlimited really isn't at this link.
PastorsLine prefers to offer:
Virtually infinite space for unlimited contacts so that all-sized churches can spread the Truth and grow their ministries.

Monthly and annual plans (cancellable at any time) to match your flow.

Long codes—the more powerful and secure option.

True transparency about costs.
Sounds like PastorsLine can take us to the next level. We're in for the free trial. (https://my.pastorsline.com/register)
It's interesting but I'm not sure yet. I'd like to find out more. (link to eBook)
pastorsline.com
onecallnow.com
Cost for 1000 texts (adjusted)
$28 / mo
Varies based on Contacts
Keywords

Unlimited

Per plan purchased

Numbers

1 or several

Per plan purchased

Voice Forwarding
Yes
Yes
Simple Autoresponder
Yes
Yes
Advanced autoresponder

Yes (digital connect texts)

No real two-way communication

Email

Integrated (MailChimp)

Yes but not clear which system or integration
Automated Messages
Yes
Yes
Multiuser
June

Yes

Mobile Ready
Yes
Yes
Mobile App
Yes
Yes
Church-focused or church arm

Church-focused

Church arm

Live Polling
Yes
Yes
Contest
Yes
Yes
Birthday Campaigns
Yes
Yes
Analytics / reporting
Advanced
Continuous status updates in real-time
Features (voice, polling, contest, etc)
Yes
Yes
Start for free or have to pay
Free up to 250*
Free no cc required
Trial length
30 days
30 days
Do they offer integrations / API?

CCB

(Done)


MailChimp

(In Progress)


PCO

(Done)


Donations

(Planned)


Zapier

(Planned)


Slack

(Planned)
Salesforce
Outlook
.csv files
Spreadsheets
Why Do Leading Churches
and Ministries Choose Us?
We help many small ministries to mega-churches communicate
effectively with your members and visitors: through text, voice and social.

285
Happy Clients



Connect, reach & engage with a mobile
generation through text for your ministry!