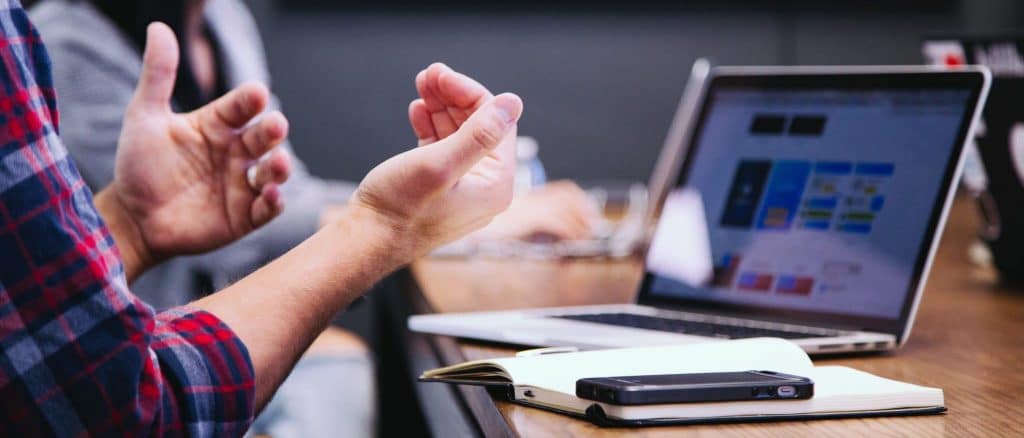 Even though the tools and strategy are digital, Digital Evangelism is still evangelism. Its purpose is still leading people to Christ whether you are doing personal ministry or corporate evangelism.
The only difference is that churches are now using a hybrid of digital and traditional tools or fully digital ones.
Logically, then, the results of your digital evangelism should be the same, right?!
In other words, nurturing people from first-time guests to congregants to family to baptism.
What's great about a fully digital or a digital-traditional hybrid evangelistic system is that not only do fewer people fall through the cracks, but you are also able to reach more souls for Christ.
Overall, the entire discipleship process becomes shorter.
How productive is your church's digital evangelism?
Probably, your church, like most, is way past the "Facebook is the devil" phase and has an online digital strategy of some sort. As good stewards of your ministry's resources, have you evaluated the effectiveness of your digital evangelism?
If you have the hard data to say 'yes', well done. Really. Many church-focused digital strategies fall down exactly at this point.
As churches, we understand the need to get online and continue to be online (mobile and other devices)—to make use of texting, social media, and all that good stuff. What we usually don't do is the followup, getting the boring data for our online presence and other campaigns.
Mostly, we understand the process of traditional evangelism and do the planning. We have the before, the during and the follow-up.
Thing is, with digital, there are the same requirements. We need to get good at the process, the data and tracking, and the systems.
I want to share with you my top three takeaways. These are the results of my learning over the last 10 years of working with digital evangelism directly (as a church digital strategy team member) and indirectly (as a church digital strategy advisor):
Takeaway #1: Show proven results
Storytelling and engagement should only be a part of your church's online digital evangelistic strategy. Your overall strategy has to connect the dots. It has to prove that one specific thing (a specific campaign, for example) led people to Christ.
To do that, your digital evangelism has to be data-driven: capturing the data, tracking it, and reporting report the facts and figures which show that people measurably became closer to God.
Will everyone who opt into your "campaign" be converted by the end? Most likely not, but what if you could connect that person to tailored content that would bring them closer to a decision?
Let's check out an example.
Texan family man Mark Andrew Fox is an Adventist pastor, director, and evangelist. An alumnus of Andrews University and Andrews Theological Seminary, Fox is now involved with Forever Free Ministries and the YouTube channel, "Amazing Prophecies". Fox is a great example of the evolution of a digital evangelistic strategy.
Fox's YouTube channel began as they all do—create the finest content you can, learn from the best and tweak as you go. It was a bonus that Mark is a prolific speaker on and off camera, and has had years of experience creating content.
One of his videos has over 1 million views.
However, as a seasoned evangelist, Mark's end goal was how do you go from broadcast to baptism? He had tons of engagement—likes, subscriptions, and comments—but needed a way to connect those who were viewing online. Many were saying they wanted to be baptized but there wasn't a clean way for him to quickly and effectively know who's who and how to get in contact with them.
He tried contacting these people online directly via YouTube, adding them to FB and contacting that way.
He then reached out to me and restarted the conversation we had been having about texting. I wasn't sure if texting was going to work with a YouTube audience so we piloted it. The text messaging was the way to capture the users' data and drive people to the next step – a process we designed.
See a live demo here → Fast forward this video to 26:20. At about 26:25, a message pops on at the top right, "TEXT PRAYER TO (940) 222-4445".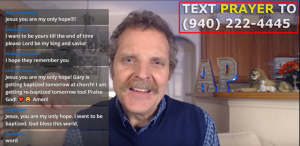 This simple opt-in is actually a powerful funnel, turning anonymous 'Likes' and 'Who-knows-if-its-their-real-name' comments into actual people who become part of a database for later follow-up.
To date, Mark has hundreds of names and matching cell phones in his database but the biggest win is two confirmed local baptisms of people whom he never met but directly related to viewing his content.
In Part 2, we will dive into how to set this up.
Takeaway #2: Remember: Ministry 1st
Wouldn't it be great if the Truth alone were sufficient to convince everyone? We could just leave Bibles everywhere and go home—work done. Since different people respond to different things, there is no 'one size fits all' strategy, making our mission more challenging. And that's the overall point—our job is a mission, a ministry. It's a long-term commitment, not a collection of cool, 'flash in the pan' things and finished.
Takeaway #3: Keep it prayered up
How well are you following the Biblical model of pray—study—serve? Often, we become very wrapped up in the 'serve' part; I know I do. It's a natural tendency, resulting from our passion for what we are doing. We don't remember the pray—study parts. We forget about allowing the Spirit to lead us, to add God's grace and power to our human work.
Not part of your church's big budget?
No problem. You can always scale back, finding methods that work within the resources you have. Be patient and prayerful. Mindfully, keep connecting the dots. With God's blessing, your dedication will pay off big time.