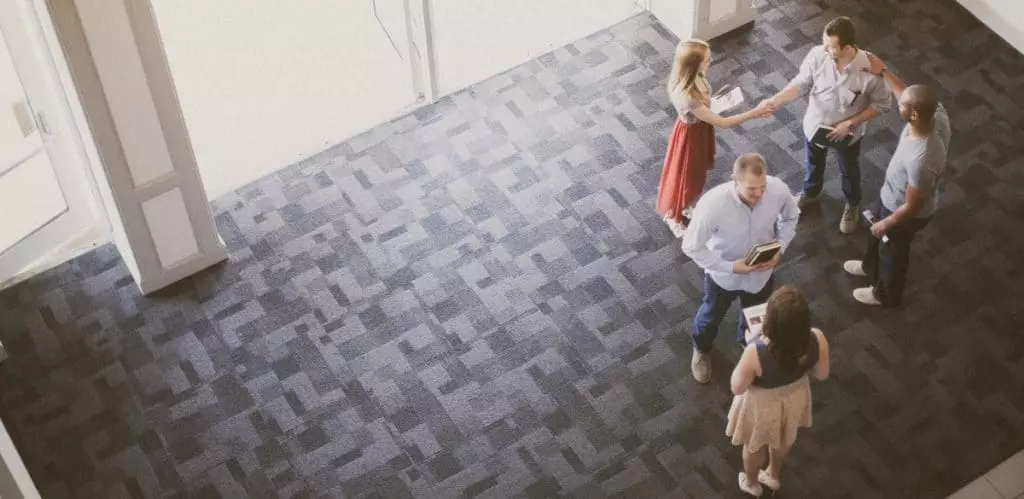 Perhaps…
People are physically sitting in your church, listening to your sermon. Some of them are first-time guests. Some are church members.
You have just told them about an upcoming Bible study series, and you would like people to sign up for it now, while they are still spiritually engaged and motivated.
You would also like your first-time guests to give you their contact information, so you can follow up with them.
Or maybe…
You want to automate a prayer chain. Your church members belong to several different generations. So, some prefer texting and some phone calls.
How can you accommodate both?
Getting people to sign up/opt in/join is an important step in your church's conversation with them, helping them to take their next steps closer to Jesus.
Today, technology can help. Bulk texting platforms which include BOTH texting and voice options encourage people to engage in real-time using the method which best suits them.
Here's what Chad Germany of Ask4Nations shared with me recently without solicitation:
The issues
Chad shared: "As a missionary and pastor, I have spent years trying to find a service to allow people to sign up by text during a service.
Then as a pastor, I beat my head against the wall trying to figure out how to automate a prayer chain. Young people wanted text. Most of my seniors wanted a voice message.
Seems like this should be easy with all the tech available today, but I never found a good fit until a few weeks ago when a friend told me about PastorsLine."
Using PastorsLine
Chad continued: "I set it up and used it on my last trip. I was seriously blown away. In two weekends, over 50 people signed up by text, and I didn't have to do the data entry for a single one."
We are so pleased to hear about the great result and wish Chad and his ministry many more!
Chad's unsolicited opinion about PastorsLine
He said: "Their [The PastorsLine] $10/month package is all most Churches would ever need. In today's world, when 97% of text messages get read within 3 minutes on average, this is a no-brainer.
PastorsLine has the most powerful feature set at the most affordable price I have found. Simple. Powerful. Affordable.
If you have not set up a text option for your Church, I would seriously encourage you to check it out.
Or if you are a missionary looking for a quick, easy way to let people sign up during your services, PastorsLine is it."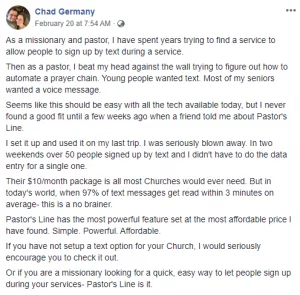 Get more of your ministry members signing up and opting in by starting your free, $0 for 30 days trial.
Not yet, but I'd like to know more about texting in churches.