Over the last two months, we have added additional features and fixed several items on our list. The following covers the ones that directly impact our users.
Multi-user Options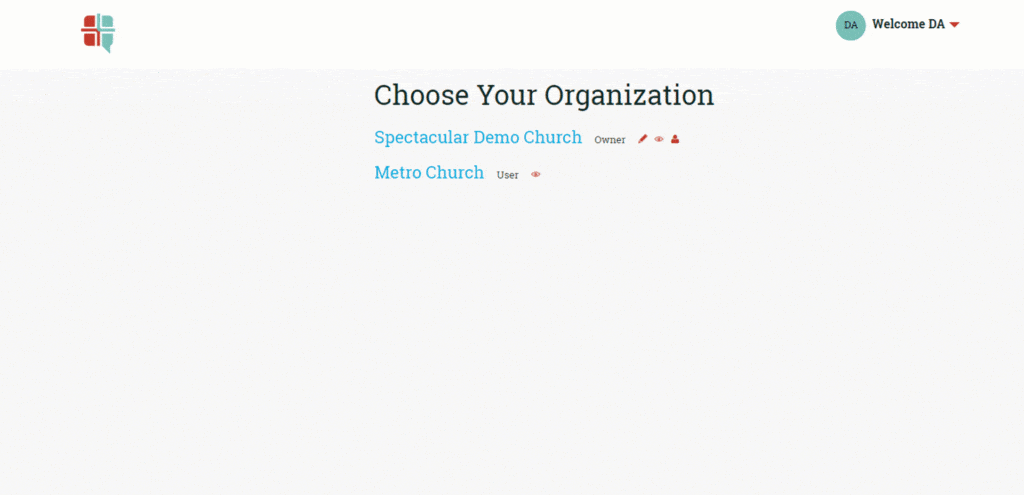 Our multi-user feature has been running for several weeks and our church partners are loving the flexibility. It goes beyond just allowing additional users. We believe in an open, simple concept and offer two main roles. An admin who can see everything or a user who only sees the conversation that is set to that user's assigned number. Users also can't delete data and only see the groups they are assigned.
This is very useful if you want to assign responsibilities to your different ministry leaders at your church and want to limit access or confusion by assigning each ministry leader as a separate user. Many churches are electing to assign their pastors as users to help minimize the overload of data. Check out the other details here → multiuser/
Data capture (FKA autoresponder)
Digital connect texts are where you can capture follow-up data via text without having to send your guests or members to a link (digital connect cards). In our experience, digital connect texts see higher engagement as they mirror exactly the way people communicate on their phones.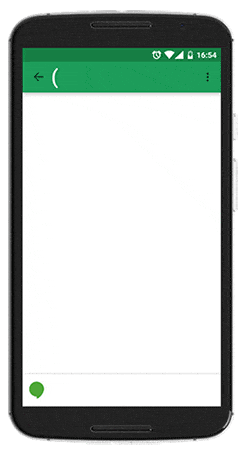 PastorsLine has offered this option called "data capture" (FKA autoresponder) for several months already, and many churches are using it for connecting with first-time guests while capturing additional information like name and email.
Before, the actual conversation was not shown within the inbox. However, after several requests, we now have added this in. You will be able to follow the questions and the responses and even be able to understand where things went wrong, all from the inbox view.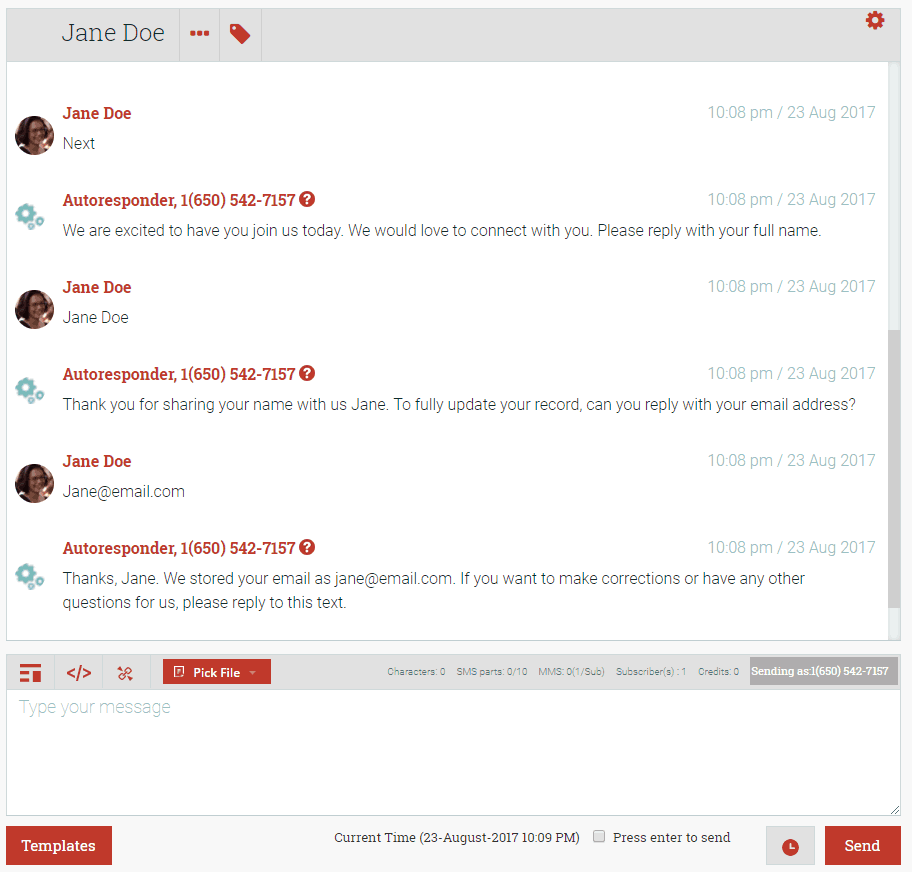 VOICE
PastorsLine is focused on texting for churches but offers voice forwarding and voice broadcasting. It's a great way to turn your local number into a tool that can be used.
Here's what added/changed.
When sending out a voice broadcast (a robocall), we automatically include the instruction for your subscribers to opt out. Based on feedback from our church partners, the voice broadcast ending has been changed to "End of Message. To unsubscribe, press 9." This small change will help avoid accidental opt outs.
Within our system, you can adjust how long of a pause to wait before a voice broadcast starts. The minimum was 1 sec. We have now included a "No delay", 0-second option to help reduce the time before a broadcast plays for your audience.
Church Community Builder (CCB)
If you are already using Church Community Builder (CCB) to build community, engage people, and help grow disciples, but not quite as satisfied with CCB's Twexting™ feature, we have built a solid integration.
Here's what added/changed.
With our 2-way integration, we immediately send data over to CCB once it is found. New data from CCB is synced to PastorsLine when you login to our application. If you ever need to manually pull in the latest data, we allow you to resync your entire contacts and/or CCB groups to PastorsLine. In cases where you change your mind or the application is taking longer than expected, you can now STOP the resyncing.
As we grow, we can manage CCB accounts with 1k to 100k contacts. We have increased our server space and re-coded our application to work better with larger data. However, if things fail for whatever reason, you (and our team) will be notified.
Minor Features Added
Each table has options to show a predefined number of records. Before, the default was 5. We have changed this to 25. This is less confusing. We also added a 1000 record filter that should allow you to see more records on the same page and export them as needed.
We are personally excited with the new option to see unread messages first. This is a default behavior that filters all unread messages when viewing the inbox. We believe that our solution allows you to engage, and what better way to engage by responding to incoming messages. Being able to quickly see those and act on them is now easier. We have many churches who are communicating with hundreds of people at the same time. And the type of text blasts they send out are personalized and call for communication. Being able to easily communicate with your audience via the app or desktop, in mass, has now become even easier. Once you have addressed all the unread messages, it defaults to the regular view that shows all.
Another highly requested feature is the ability to send to multiple groups. You might have created a men's group and a woman's group. Perhaps, you wanted to send to both about the men's vs. women's cookout. Now, you can select both groups and create a new merged group. This isn't dynamic and would not keep being updated, but you can send to any groups. The selecting of multiple groups currently only works on desktop, but once you create this new merged group, this will also be accessible via the app.
The critical fixes that affect you
We have put in dozens of hours tweaking our system and responding to bugs over the last few months. Here are the most important ones you might be interested in.
Within our multi-user option, our core philosophy is that users can edit but not delete. We missed an option where users could have deleted individual messages from the inbox. This has been fixed and reserved for admins only.
The top level of PastorsLine feels similar to most social networks you use. You can see recent contacts, get global notifications, and see incoming messages. We have cleaned this up to be more accurate and to allow you to send quick messages without going to the inbox.
We checked and improved the dashboard numbers to be accurate and they are clickable.
Within the inbox, you have the option to delete (admins), forward, and mark as 'unread' the messages. We fixed the "mark as unread/read" option. This is perfect for teams that are sharing the same number and you want to allow your team members to see the messages. Or perhaps you read a message that requires addressing at a later time. "Mark as unread" will be great for you.
Sending large numbers of picture messages will get your number flagged by carriers. We initially removed the MMS feature for groups but now you can send pics for groups less than 150. For larger groups, you can use a URL. You can still send and receive unlimited pictures when engaging a specific person.
We allow you to import contacts into our system in bulk. The required format is CSV. We fixed the issue where if the file extension (.csv), was capitalized, the system rejected the import. We also fixed a compatibility issue when exporting into the CSV format using a Mac.
We have noticed some lingering issues with the Safari browser. We added a note to make it clear that we don't recommend it at this time. Chrome or Firefox is your best option. Also, ensure your browsers are updated.
Our voice broadcasting option was temporarily not working as a "space" was introduced to our script. Now, that's a sermon, right? This issue has been fixed.
While we haven't done them all, but now you can hover over most of the icons within our system and see what they do. This was recently done for the inbox.
We send you one report immediately when people have signed up through a keyword or you can elect to get the notices daily. The daily report has been broken for weeks. This is finally fixed. This is great if you are using keywords to connect and want a simple report on who opted in for that day.
Trial
If you have tried our product or plan on doing so, you can now extend your trial after 30 days to get an additional 14 days. Just enter the coupon code GRACE on the billing page when logged in and select a plan. You will pay only $1 and can cancel before the 14th day and not be charged. Additionally, we give you an additional 500 credits. So go ahead, do take advantage of this offer.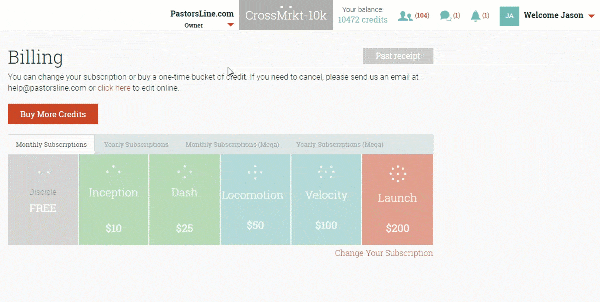 If you signup today, however, we will give you a bonus 1000 credits. This invite code AUG27 will expire August 27th. Enter on Step 2. So act now.