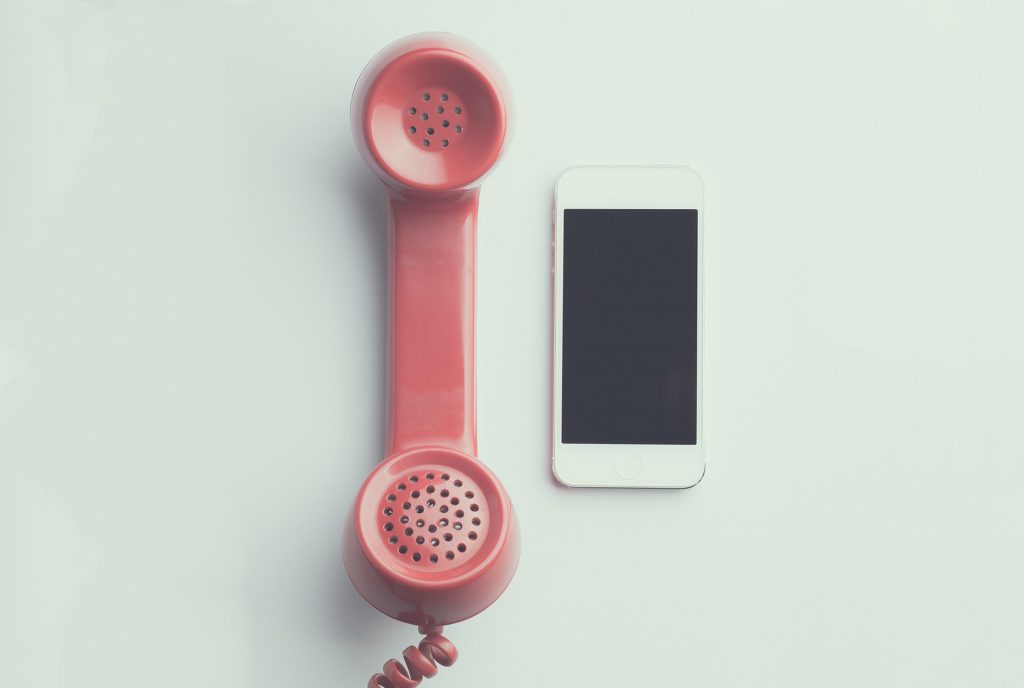 Your church is probably ignoring texts from guests and members!
How? From Landlines!
We don't think so. Surely, no one is texting our landlines.
Are you absolutely sure? Here's a fact: 150 million texts are sent to landlines every single day! And your landline is probably one of them!
So, it's not a question of whether people are texting your landlines or not, it's a question of "Are you seeing those texts or ignoring them?"
What does this mean for your church?
It means if you cannot see these messages, you have people, guests and members alike, who send messages that you never get to see. It then implies that a number of souls might have been lost to your follow-up campaigns. Also, some members might have stopped coming because they feel you 'ignored' their texts.
The GameChanger
PastorsLine's Text my church landline feature enables your landlines to receive texts. You no longer have to miss out on ANY texts, so when your members and guests text your landlines, you would see their messages.
See what one of our partners, Melissa Seal, worship leader at Fellowship Baptist Church in Missouri, had to say about this feature:
"We like to use the landline when making phone calls because then it doesn't show as "Spam Likely" when calling our church congregants. The other number we use for texts mainly. We previously used a different texting platform but many times some of our older congregants would accidentally text the landline instead of the texting number. Now they can text either and it's no issue."
So, whether it's an accidental or deliberate text, it's no issue. The most important thing is that you don't lose out on those who text you via the landline.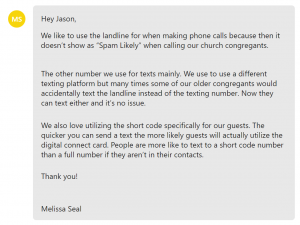 Using Two Lines: That's management, not the cure.
To find a way around this, many churches use two numbers: one as the landline for calling and the other for sending texts. But the challenge with this method is that some people don't care which line is for what, especially guests. They just text because they need answers. Since these guests and members don't know or understand the distinction, they are still ignored, and the problem persists.
'Please Call us.'
Again, some churches place more emphasis on calls than texts. That's great, but stats show that most people prefer texting to calling and waiting for someone to answer. Besides, some folks would still text even after you tell them to call. So, it's better to always have an option to text on ALL lines.
Shortcodes make it easy
Another feature that makes things really easy for many of our users is our PastorsLine shortcode (77411). We have discovered that many people find it easier to text a shortcode than a full number. Melissa also observed this pattern, especially among guests in her church. They found it easier to send messages to the shortcode.
A reason for this is that the shortcode is way easier to remember and type into the message box than a full number. This way, guests are able to easily reach out to you even before they have the church contact stored. So, you do not have to miss out on first-timers reaching out to you after a service. Even members that have stored the church contact might decide to use the shortcode because it is that – short and sweet!
Melissa summarized the benefits of our shortcode beautifully in her message to us:
"We also love utilizing the shortcode specifically for our guests. The quicker you can send a text the more likely guests will actually utilize the digital connect card. People are more likely to text to a short code number than a full number if they aren't in their contacts."
More on shortcodes: Trigger keyword specific campaigns
But that is not where it ends, the shortcode also allows you to reserve keywords that trigger specific campaigns in PastorsLine. This means that when people text your shortcode keyword(s), they will only be connecting with YOUR ministry's campaign(s).
Like Melissa and her church, you too can easily and efficiently capture every text your ministry receives by using the PastorsLine "text my church landline" feature.
We don't want to miss any text. Please take me to the free, $0 for 30 days trial.
We think it's a good idea, but we'd like to know more about texting in churches first.