So often, duality is seen as something negative (think Dr. Jekyll and Mr. Hyde or multiple personality disorder).
In this case, our PastorsLine duality is positive and very beneficial to everyone.
The way we are working at the moment
Each week, we spend dozens and dozens of hours on developing our new Hub AS WELL AS maintaining and improving our Legacy app.
Why aren't we just working on the new hub?
We realized that the PastorsLine platform is huge. That means a new hub could take months and months to get right.
BTW…just to remind you…the new hub is not just a reskin. It is a completely new and separate app, written from scratch, which needs proper development and testing.
So, working just on a new hub would leave our current clients (who have supported us for years, thanks!) without the features they need.
Since we always prioritize our clients' needs, there was no real choice. It was obvious that we needed to keep our Legacy app not only in great shape but even add the features which our current clients need now, and later move those features over to the new hub.
New clients
Those joining PastorsLine now are being directed to the new hub. They are helping us work out all the bugs, identifiying where we need to tweak the code.
Even some older clients are touching the new hub in some areas.
Want to try the new Hub?
Log in to PastorsLine. Click on My Profile. The User Settings page will open. At the top, it should say "New Hub Beta Testing (Try It)" [green arrow]. Click on that. The toggle switch [blue arrow] should be turned on, switching you over to the new hub by default.
Want to go back to the old hub? Just toggle the switch off and back you will go.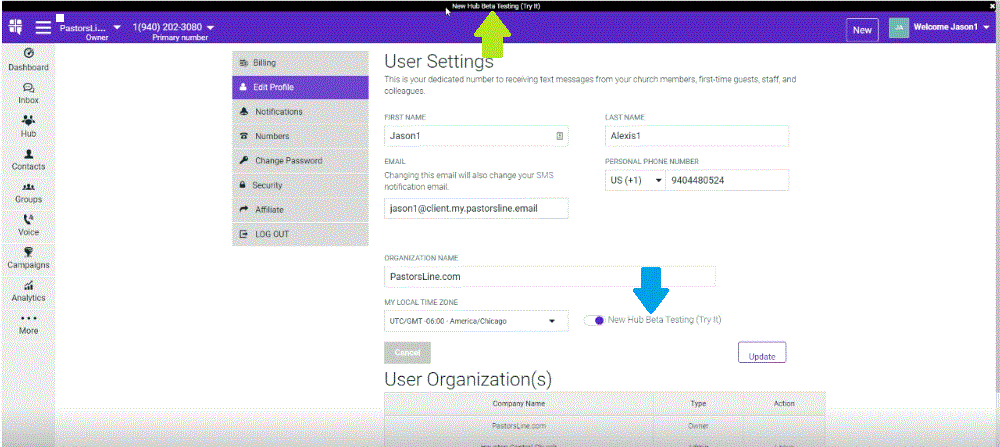 Why should you try the new Hub?
Inbox
Everything which you could do from the old Inbox you can now do more easily and quickly from the new Hub.
Templates and Links
Yes, these are also on the new Hub. Recently added.
What's next?
One last redesign
We've been building our new app for about a year now. Even during that relatively short time, technology has changed so much. As a result, we are doing some redesign. We really want this version of our app to be very future-forward.
Also, we are paying a lot of attention to the back end, including our different integrations.
A general makeover
PastorsLine is going to be easier on the eye with a toned-down theme.
In addition, it should be cleaner to work with.
Next big feature…voicemail
The current voice broadcast feature is a little bit dated and recording messages is not so user-friendly.
Our new voice broadcast feature, which will probably be ready in 3-4 weeks, will be much more dynamic.
You will be able to record voice messages with several, easily accessed options.
But there's more…
Eventually, you will be able to write a message which can then be converted into a voice broadcast and later sent as an email. In this way, you will be able to communicate in a variety of ways with just one input.
Web App (V1), Web App (V2), Inbox, Integrations, Forecast, Features, Fixes, Integration - CCB, Integration - MC, Integration - PCO, Integration - Elvanto, Integrations - Breeze ChMS, Hub