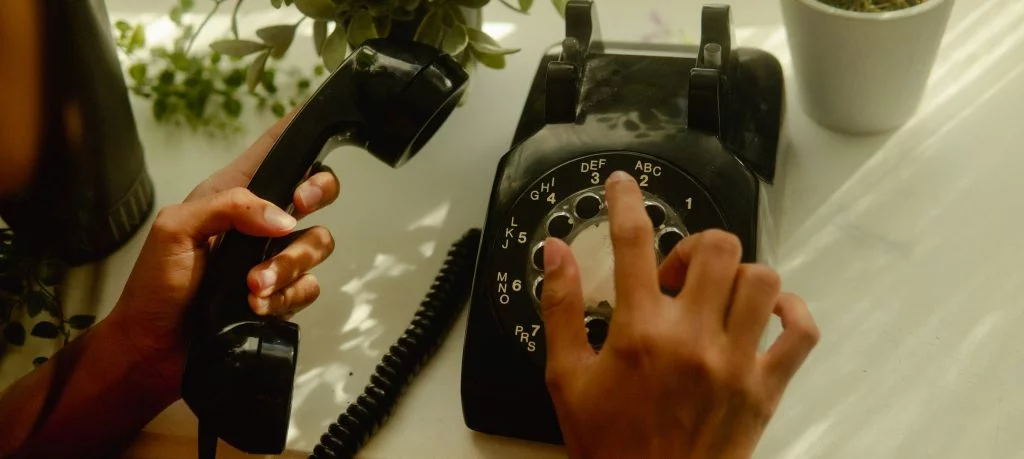 We've learned that it's "mobile-first" when it comes to a digital communication strategy, right? So, you might find it strange that some churches PREFER using their landline for texting and calling.
Pastor Richard Stigile of Real Life Church gave us three reasons why he and his church prefer using their landline number for church communication over his cell phone number:
#1 Privacy
#2 Immediate identity with the church
#3 Provides a call back number for the recipient to get in touch with someone without contacting me directly
Let's dive a bit deeper to see why we agree with Richard 100%.
Pastoral Burnout
Updated statistics on the PastoralCareInc website report that:
84% of pastors feel they are never off duty (on call 24/7).
80% of pastors believe that their pastoral duties have had a negative effect on their families.
78% of pastors say that their ministerial duties/expectations are interrupting their time off (such as vacation and personal time).
Pastoral burnout is not a new issue. Even more disturbing, many internet articles suggest that it has worsened during the Covid-19 pandemic.
This lack of privacy and downtime causes a significant number of pastors to leave their calling each year.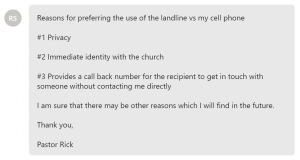 Keep your personal mobile number yours
Richard's point #1 (privacy) and #3 (provides a call back number for the recipient to get in touch with someone without contacting Richard directly) above are two excellent reasons NOT to use your personal mobile number as your church's communication channel.
Despite all the love and caring they have for their flocks, pastors must have some private time for themselves and their families if they are to continue to serve long and well.
A church landline is a great solution
Your church already has a landline.
People are already familiar with it (Richard's point #2: immediate identity with the church). By text-enabling your church landline, you offer a one-number option for those who prefer to text AND those who prefer to call.
Also, using your church landline increases your pastor's privacy and off-duty time. Your pastor is not the only one who can answer incoming calls/texts. Staff members can take turns, filtering incoming communication to the relevant church members/staff. Same for outgoing calls/texts.
By all means, use mobile also
We're not suggesting to stop using mobiles altogether, just not your PERSONAL mobiles. One way to do that is by adding PastorsLine to your digital communication strategy. PastorsLine offers local, 10-digit numbers for your mobile ministry.
Yet, that is just the start. The PastorsLine bulk texting platform provides a church-centric text and voice solution for churches of any size and any budget.
Help prevent pastoral burnout at your church by trying us out.
Sounds good, take me to the free, $0 for 30 days trial.
We think it's a good idea, but we'd like to know more about texting in churches first.