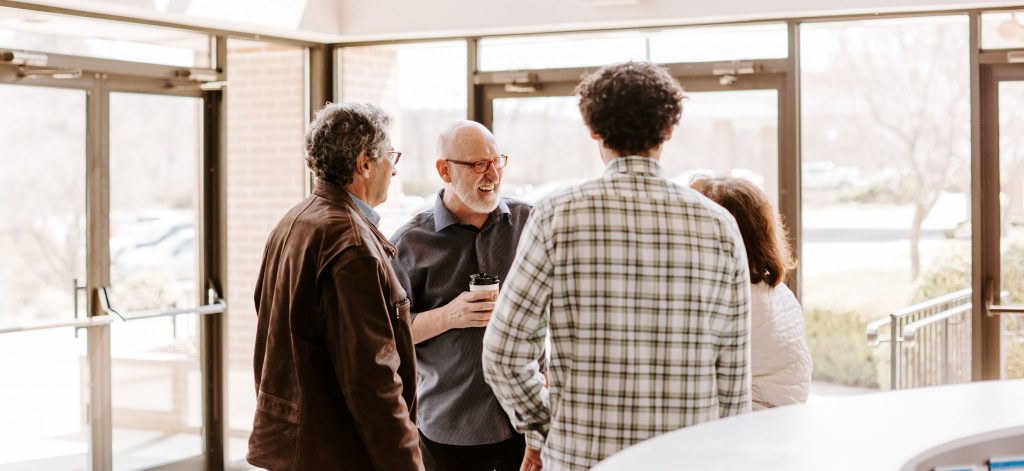 Some churches have a landline and then one or more mobile numbers.
It is estimated that every day, 150 million texts are sent to non-mobile numbers. How many are reaching your church landline…and thus, being missed?
Having several mobile numbers can be confusing for people—which to call when?
In short, multiple church numbers can cause calls and texts to fall through the cracks.
What if you could have just ONE number for everything—texts and phone calls.
Zac Page, Pastor at Templeton Hills Seventh-day Adventist Church, Templeton, CA found that adding PastorsLine to his church's digital communication strategy enabled them to "use the same phone number in all of our marketing" (their church line) and it "has been a great plus! This helps all of our communication be more seamless and connected."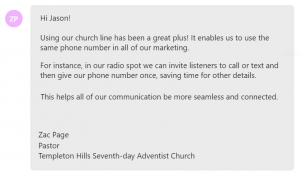 Here's an example of the versatility of the Templeton Hills church phone number.
Zac shared, "We sponsor an hour Bible Answers Live program on our local radio station, KPRL (they don't seem to have their programming online, or I'd send a link). I went in and recorded two spots that are inserted each week that go something like this:
Have you heard the story of Desmond Doss, the WW II Medal of Honor recipient who saved 75 lives in the Battle of Hacksaw Ridge? This program has been sponsored by the Templeton Hills Seventh-day Adventist Church, and as a thank you for listening today, we would like to give you a free copy of Desmond Doss's biography. Simply call, 805-434-17** or text "KPRL" to the same number, 805-434-17**for a free copy of this incredible story of faith and heroism.
People can call or text the same number. As Zac explained, "Having it be the same number is really really helpful!"
Having one number helps the church achieve its goals
Templeton Hills church has three main goals for this radio program. Zac said, "One is to share this awesome book with people. Another is to connect with our listeners. Third is to try and evaluate how many are listening, so we know whether this is an effective ministry."
Since there is only one church number, ALL the data (calls and texts) are in the same place for accurate evaluation.
Is your church ready to empower your church number for both calls and texts to have more seamless communication with your members and first-time guests?
For sure, take me to the free, $0 for 30 days trial.
Not yet, but I'd like to know more about texting in churches.