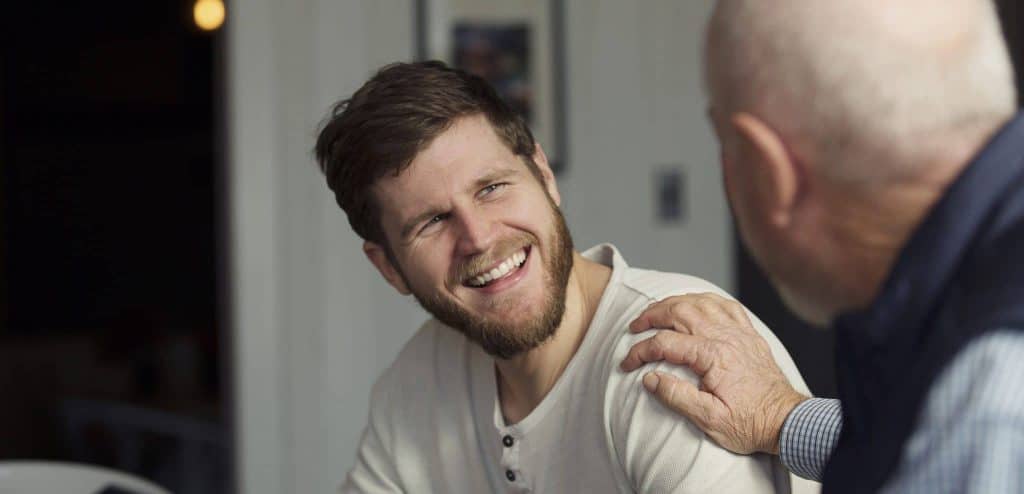 You know you said it about what feels like a million times. You made announcements from the pulpit, sent out church bulletins, spoke to people personally…and yet, your congregants repeatedly tell you: "I never heard about that."
Take heart because there is light at the end of this tunnel as you will see in this case study with Greg Cronin, Teams Pastor at Bayside Church in Woodland, CA.
What Bayside Church usually did
Greg shared: "Before PastorsLine, we communicated via Sunday morning announcements & bulletins, direct text messages from pastors or team leaders and via email, both individual and MailChimp newsletters."
As you probably guessed, that wasn't working so well.
As Greg put it: "We were frustrated with the lack of engagement from our congregation, the number of times we were told 'I never heard about that' was incredibly frustrating. We were aware that text messages tend to get read much more often than email so we wanted to pursue a solution for that."
Bayside Church decided to try out the PastorsLine communications platform.
One of the features which were of special interest to Greg and his team was the PastorsLine-Planning Center integration.
Greg explained: "The ability to integrate with Planning Center and notify our volunteers and/or our church body as a whole about important information has been huge for us. We have gone from about 50% of our volunteers confirming in Planning Center on a given Sunday to 90-100%. We recently launched a new volunteer huddle before our services, and I know that would have been a complete flop if it hadn't been for the ability to text all our volunteers the day before and remind them. We're loving it!"
In other words, Bayside Church volunteers are now responding at roughly double the rate they used to.
What's in the works for PastorsLine at Bayside?
Greg told us: "We're getting ready to start utilizing the inbound filters to create a first-time guest text endpoint where we collect their information. The default one you provide is fantastic, and we can't wait to implement it and see what kind of response we get!"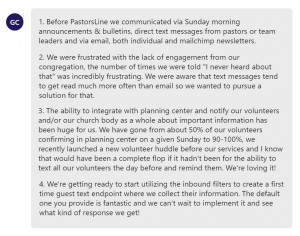 Your church could benefit from such a large jump in communication with your volunteers, etc., right?
Yes, take me to the free, $0 for 30 days trial.
Probably, but I'd like to know more about texting in churches first.