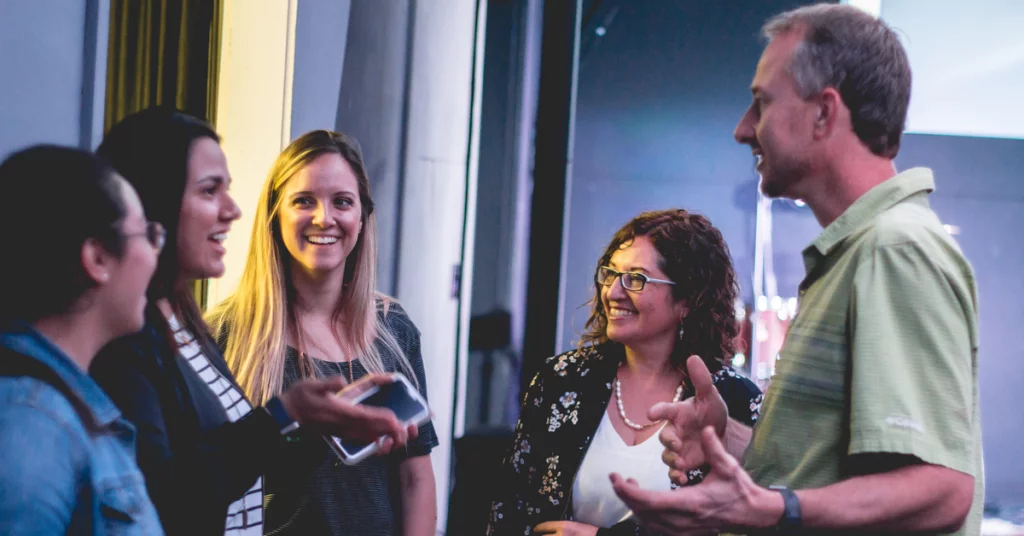 Can we talk enough about the importance of guest follow-up?
Before we look at a case study of how one church is handling this, let's check out some very recent information about this topic.
Recent information
Yvonne Gentile is the co-author (with Debi Nixon) of the book, The Art of Hospitality Implementation Guide.
Ms. Gentile identifies three key principles in an effective guest follow-up methodology: correct timing, a human connection, and the right level of friendliness.
Correct timing
The data appears to show that following up with a first-time visitor within 24 hours gives the best chance of their return: 85 percent.
If you wait until 24-72 hours after their visit to your church, you have a 60 percent chance that they will come back.
After 72 hours, you might as well not even be in touch because there is only a 15 percent chance that your guest(s) will visit you again.
That makes sense because the next principle Gentile identifies is a human connection.
A human connection
Since prayer began, people could always pray at home. Today, people can also pray online, so they have even more reasons not to come to church.
If they have come in, it means they are looking for something which they cannot get on their own.
That 'something' is a personal connection with a spiritual community.
If your guest follow-up is very late, what does that say about the community (the church) they have checked out?
Is it really interested in them? Is it really excited that they 'braved church' to try to make a connection?
The right level of friendliness
Many of us have been 'new in church'. We felt a range of things. Perhaps positive emotions such as anticipation, happiness, and excitement, but likely negative things as well such as feeling a little lost, not part of the group, and unsure about do's and don'ts.
Feedback shows that many first-time visitors prefer a low-key welcome. In fact, 63 percent of guests prefer to visit a few times before reaching out.
Thus, follow-up needs to be engaging without being intrusive.
Texting can satisfy all of the above principles.
Let's take a look at a case study to see how it works in real-time.
Case Study
Cotter Johnston, Next Steps Director at the Rehoboth Beach campus of Bay Shore Community Church, reached out to us to let us know how using PastorsLine was going for his church.
Cotter shared: "Loving the system. Been getting some awesome interactions with the guest follow-up campaign. Appreciate you guys and the software you've created."
We were interested in exactly what he was doing and asked for further details.
More campaign details
"I created a campaign that sends out about 2 texts/wk over the first 4 weeks after someone's first visit. I've got it linked into groups and process queues in CCB so the system is very intuitive and easy to manage."
PastorsLine offers several integrations to popular church management systems: Church Community Builder (CCB), Planning Center (PCP), Tithely ChMS (Elvanto), and Breeze ChMs. More integrations are planned.
Various users in different locations
It's not just Cotter who is involved in the guest follow-up campaign. As he explained: "We have 3 campuses and it was easy to train the dept. heads at the other campuses on how to use the system. We've only been using it for 3 wks at my campus, 1.5 at another campus, and the 3rd started it yesterday."
And the results?
"We used a similar structure with emails at my campus last year and rarely received responses back. We've already seen floods of responses to our messages through this system just in a limited time. People seem very happy to be contacted with text on Mondays and we've gotten a lot of responses to our invite texts that go out on Fridays/Saturdays. After using the email follow up for a year, the amount of responses to our messages through the text system has been really cool. Everything I was hoping to see," Cotter told us.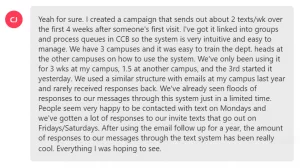 So, how's Cotter feeling about the system?
He said: "You guys are awesome. It's really cool to be a part of a company that is innovating. Appreciate you guys."
We are very thankful that we are making a difference in Cotter's church.
Your church could definitely handle a better guest return rate, right?
For sure, take me to the free, $0 for 30 days trial.
Not yet, but I'd like to know more about texting in churches.