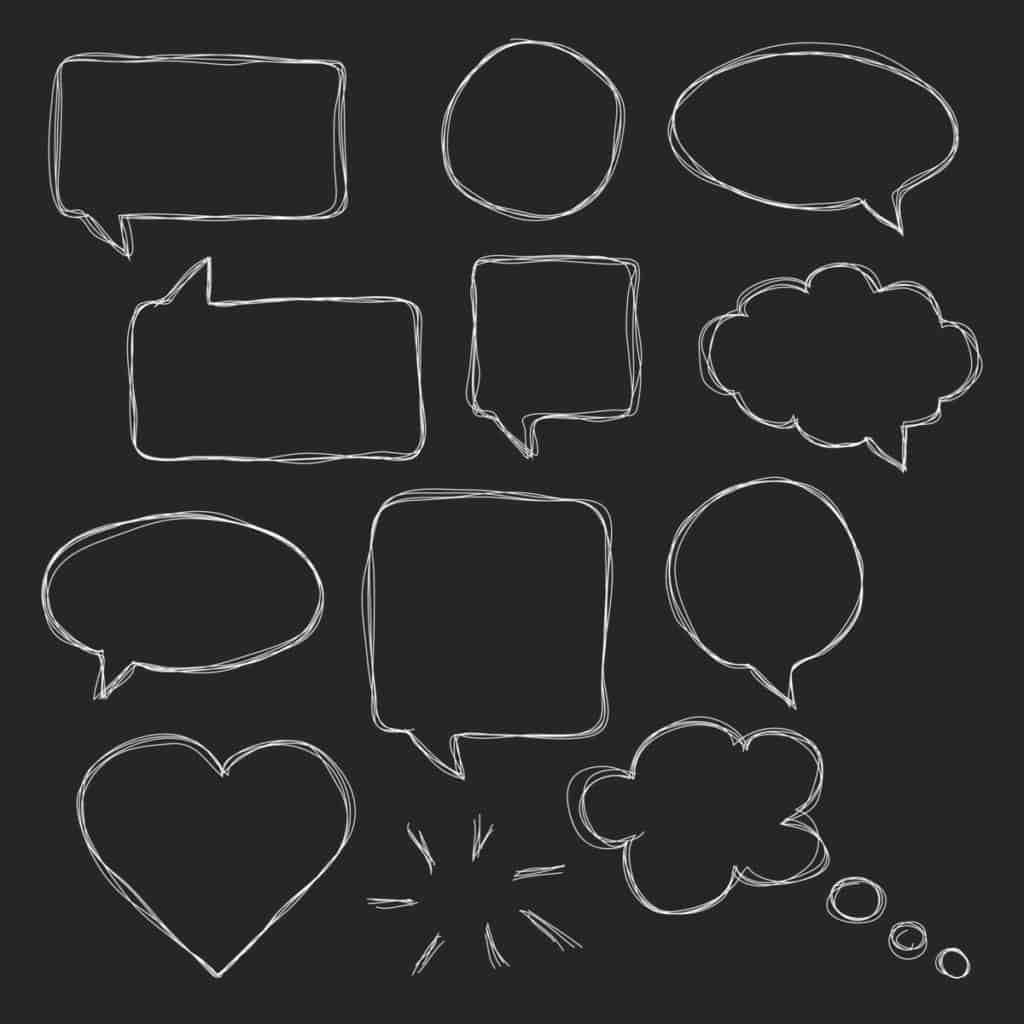 To grow a healthy church you need to think RELATIONSHIPS. One powerful way to create and sustain strong relationships in today's 'digital' world is through text.
But how can we use texting to get your first-time guest to 'fall in love' with your church? If the church is people, and people are social, let's forget about texting and let's talk about relationships.
Ideally, the church will have enough leaders to personally visit every single guest who attends church. Of course, assuming that that guest would be happy with a random show-up at the door or will be living simple lives so they are at home when you come around.
Or perhaps your church has the staff and time to call each visitor. But less than 10% of guests will actually pickup.
What about sending a personalized, handwritten note? That works really well. But is that your best first move in a process that might take about 7 days before the user receives it?
A text is the best option.
Texting is less stressful,
less intrusive.
You can read texts or not.
You can respond or not.
You can do either or both
at times that suit YOU.
Think about saying "hello" to your first crush. Do you ask them for their age, credit score, and email or do you just say "hi", smile, then develop the relationship over time?
Also, 90% of text messages are read within 3 Minutes.
So, let's talk about the anatomy of the guest follow-up dialogue.
1. Decide on the purpose of your account: make a decision on what the number will be used for. Does a specific number "belong" to the pastor (or a leader) or is it a ministry's number? Our system does allow you to add unlimited numbers and the multi-user will also help with this allocation. The idea is to ensure that the members or guests are trained as to what numbers are what. It's not a major mistake but you do lose engagement if it feels like it's coming from a person then suddenly it shifts to be a communication blast.
If you are using a number for guest follow-up, then consider not using that same number for other internal announcements. Getting a second number for events might make sense.
2. Get permission. You can either have people opt-in specifically or let your first text be clear about who it is from. This is more important if you are using a specific number for mass communication, alerts etc. If you are using this as a pseudo-personal number and it's never being used for mass communication for general alerts, then signing it or introducing yourself is fine. e.g.
Hi [Firstname], this is Michelle at Real Life Church. Just reaching out to say thanks for visiting us this wknd and if you have any questions, I am here for you.
OR Hi [Firstname], ……………………………………………….. – Michelle
OR Hi [Firstname], this is John with the communication department. This number will be used to send infrequent bi-weekly updates. Reply STOP at any time to OptOut.
3. Timing is everything. Choose the time of day wisely. When you want to reach a specific sub-group of your members, you may want to think about the time of the day and the day of the week when they will be most likely available and willing to chime in on a conversation, or to read your message.
4. Use the first name merge field appropriately. If you are doing a guest follow-up, you would want to use it naturally. If every text starts with "Hi Jason", it may be awkward or feel disingenuous. Create messages that will compel your members to think and want to provide answers or comments. This type of open messages often provides you with an insight into new ideas and can create further conversation.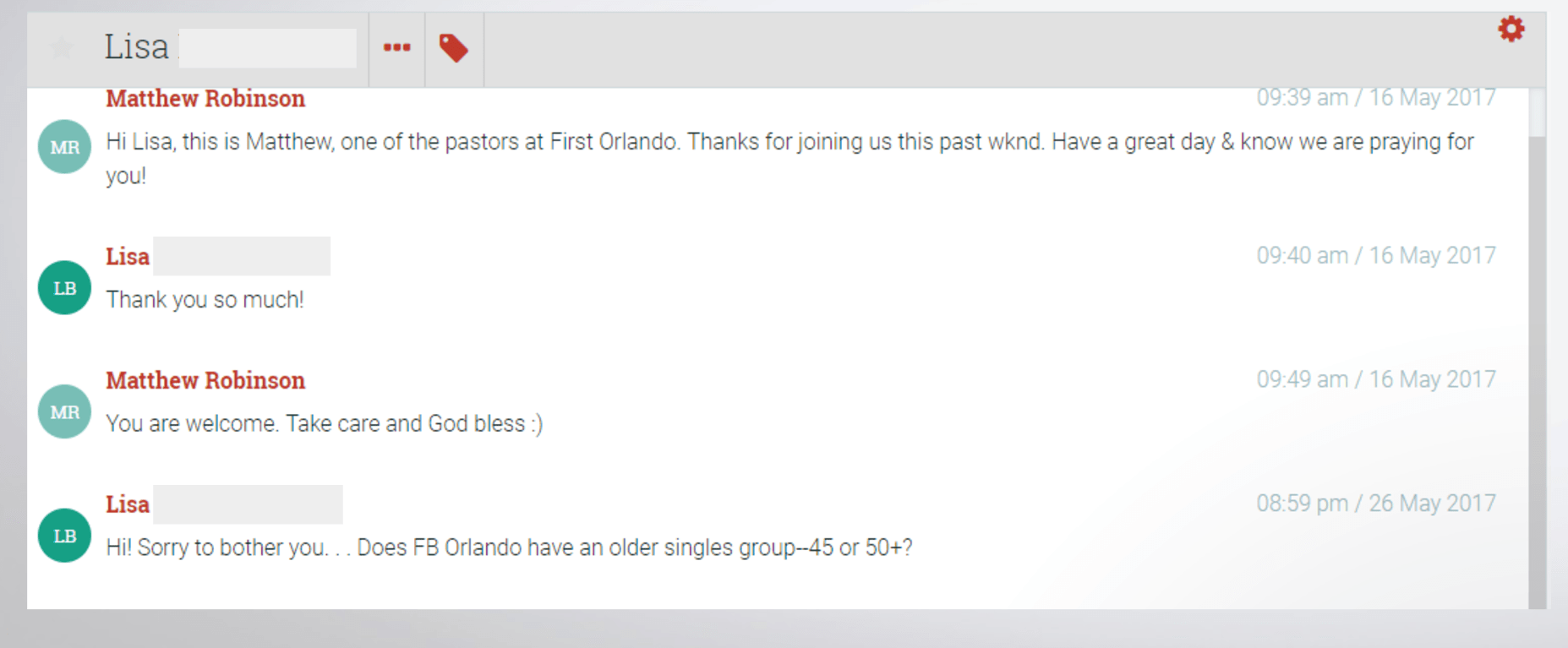 5. Keep it simple. People tune out when a conversation becomes lengthy. Shorten conversations by providing new points of interest. Remember, it best to keep your message within 160 characters to communicate your message.
6. Keep it 2-way. You need to respond. Find excuses to reply and keep the conversation going. Notice how Alejandro Reyes (an expert communication) engages his audience by responding to EACH person who comments. As you grow, you can add a team to help. Let your contacts know that you care. Text is a social, relationship building medium (like Facebook). Think beyond the 10 digits and your agenda.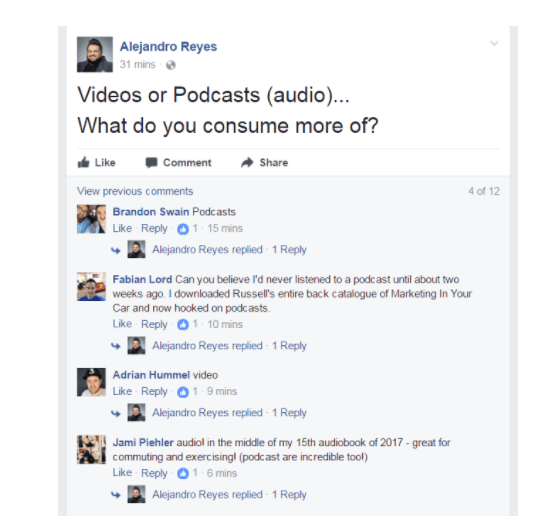 7. Blasting one-way communications are kind of like shouting at your members/guests by sending out texts of events but never engaging. Why do churches blast? They may be smaller churches who are using text as another way to share announcements. Or churches which may not have the time (or the team) to text in a more effective way. One big mistake is ignoring replies from members or visitors. Remember that blasting to someone's cell is a powerful option so don't abuse it.  Seek out the needs of your subscribers first like Jesus did. If you are going to use text for updates or announcements only, that's a loss. Accounts on PastorsLine that only send weekly announcements, decrease in engagement, significantly. Remember, it's all about relationship. Nothing else matters. And not just on the weekend. A midweek word of encouragement might be surprisingly beneficial.
8. Before sending a follow-up blast, always respond to all unread messages. It's very unlikely that when you are chatting with someone directly, you are going to just press 'send'—ignoring their question or the thread of the last conversation. So, a rule of thumb – keep it authentic: never send a group blast before resolving all your unread messages.

9. Respect your members' privacy. Never give out any of their personal information, either on social media or in a text message. Your members and visitors may be happy to supply their own numbers in a text message and allow you to do so, but never do this without their permission.
So, if you don't remember any of the points above, remember the 3 guiding principles that you can begin to implement today.
Build Relationships – Your audience are real humans beings. Treat them as such— not just numbers on a database. It's about building relationships. 2-way communication is important.
Address Their Needs – Think about your audience's needs like Jesus did. It's not about you and your agenda. Only "shouting" at your list about your events will appear selfish. It will turn off your audience. If they know that you care, they will care about what you know or have to offer.
Create a Text Strategy – Make it strategic and very deliberate. Don't just "try it" or "let someone else do it". Let the focus be the essence of your text messaging strategy.
So text like if Jesus would. That's it.