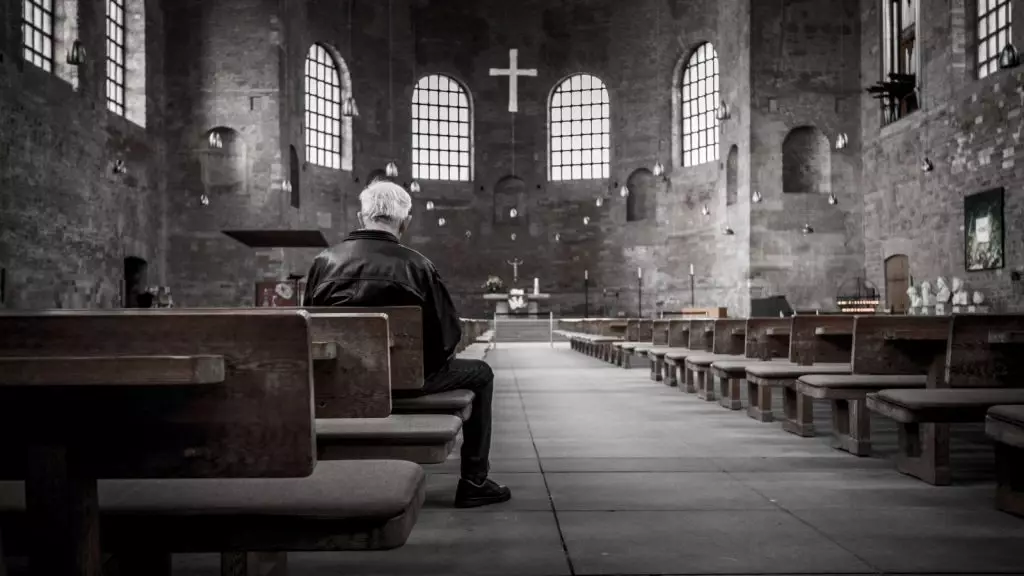 What's next in the world of churches, marketing and technology in 2016?
Two words: Church Online. Not to be confused by the phrase 'Online Church'.
Keep reading…
You may have heard the term Online Campus and you're likely to have heard the phrase 'Internet church', as well.
Many top churches have already set the tone for what most churches can do in 2016 with their online church. They likely had the budget, the right digital strategist and culture to have tested this concept.
A few of these early adopters have been doing some aspects of it for years. So it's not really new, but most churches now have the access to the tools, the best practices and the real world experience to begin focusing this year on having a fully functional church online – not just streaming.
We know what your digital strategy is. It is how you use digital tools to share Jesus. We also know that digital strategy needs to stay fluid and adaptive as new technologies and tools emerge, but as more vendors provide solutions for this growing need, churches and ministries are able to do more online.
When I first started in 2008, it was a big deal for churches just to have a website, but you often had to wait months, if not a whole year, in order to have the best web designers create one for you (unless you just got that high school student do it for you, instead).
Now, you can have a cool, fully functional website up in a few weeks. You can even build an app, add e-giving and do live streaming, all within 30 days or less. But is that enough?
Today, however, your audience expect more than just a cool looking website or app, with just some basic information about your church or ministry. Perhaps you even have a camera pointing towards the podium that's hooked up to livestream or ustream, with an e-give link and sermon notes.
That's a great start, but by just adding a few additional steps you can begin to turn your streaming event into something dynamic.
Your audience expect you to provide an interactive and fresh experience that draws them in. They want to use social media to interact with you online and they want to have access to your online resources wherever they go, even on their mobile devices.
Most importantly, they want to connect with your small groups and online classes or get questions answered, all before ever stepping inside your church. They want to know if you are for real as they attempt to find Jesus, initially through authentic relationships.
Your online visitors will not only be able to live-stream services, but they will be able to take further steps, and finding spiritual inspiration.
Members of this global, mobile and social generation are hungry for an authentic spiritual experience that they can access online and on their phones.
Your audience wants to belong to your movement.
As Jordan Gillman said, as well as what you may have already realized, "your church's digital strategy is a full-time communication and creative ministry! It isn't a checklist of things you need to set then forget. It is the catapult for creating and maintaining a successful digital campus: your church online."
A wide variety of mobile and digital communications tools have laid the foundation for robust online ministry. Now is the time most churches will be able to actually replicate what they do within their physical campuses, online.
Replicate YOUR local ministry online. Do not just duplicate someone else's.

That's the difference, to me, between Church Online and Online Church.
An online church, though just semantics, may be best described as a ministry that is probably 100% focused on reaching people online, then trying to match them to local churches. Perhaps the online ministry is able to do much more and define a culture that outgrows or just go in a different direction to the local church's experience. When people are ready to connect with you in person, where do you send them? Are they turned away by the difference in experiences between the on- and offline culture?
Online church tried to be the replica of tele-evangelism over the Internet. Though some of the elements are the same, it's unnatural to our very social and ever-connected generation.
Online church, as defined in this blog, is fundamentally the precursor of Church Online, where churches are seeing real examples of how to "turn on" your offline church, effectively.
With Church online, you are bringing your church culture, focus and processes, online. Your leadership is directly involved and your digital strategist / online pastor / communication leader is working directly with the pastoral staff, to ensure the digital experience online is very similar to your local. Just as with your local church, there is usually someone to welcome visitors, take their info and follow up with requests. Attendees who are more loyal are probably funnelled to a weekend class or a small group, to eventually be able to make a commitment to Christ , be discipled and take up leadership roles. That's exactly what your digital tools and strategy help you do by taking your church online.
Saddle's back Online Pastor, Jay Kranda, says this best, "You are most effective when you replicate your church's physical strategy, online. "
You can also get a glimpse into how structured their Church Online program is, by just looking at their church online page: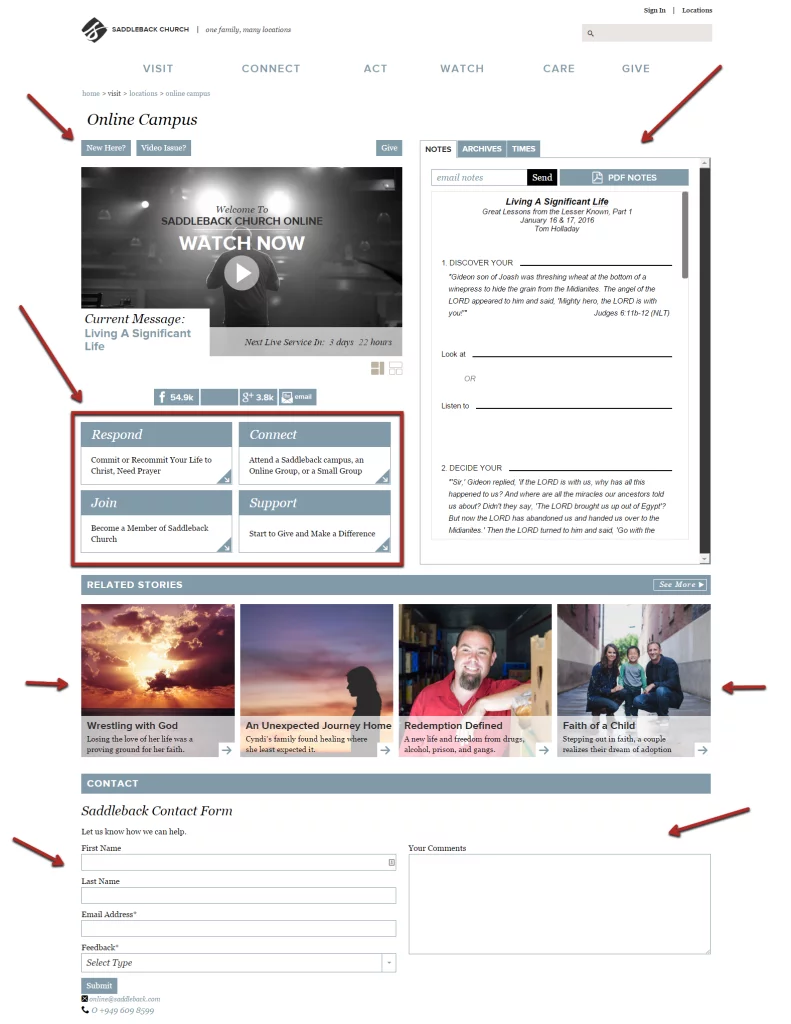 You can even try to reverse-engineer their behind-the-scenes process, to understand the specific strategy of what goes into this page design.
However, I will also be explaining the anatomy of a Church Online page and the strategy that drives this design, over the next few weeks in the series.
But….
To be honest, though, based on my research, most churches – even if they have the people, time and financial resources to get started with a church online, most aren't ready to immediately launch an effective online strategy. It's more important that the leadership get involved in preparing the people, the process and technology of the church, to accurately figure out the church's culture and to ensure it's precisely duplicated online.
Don't be scared, though, there is a step-by-step process to bring your church online that we can guide your through. For some of you it's about starting. For others, it's as simple as revamping. The current technology already makes it possible to provide an online spiritual home for your audience but, in 2016, I can help you to move toward this goal.
Expect more blogs that will show you in more detail how to create a vibrant online ministry. Subscribing to our list if going to alert you when this is ready.