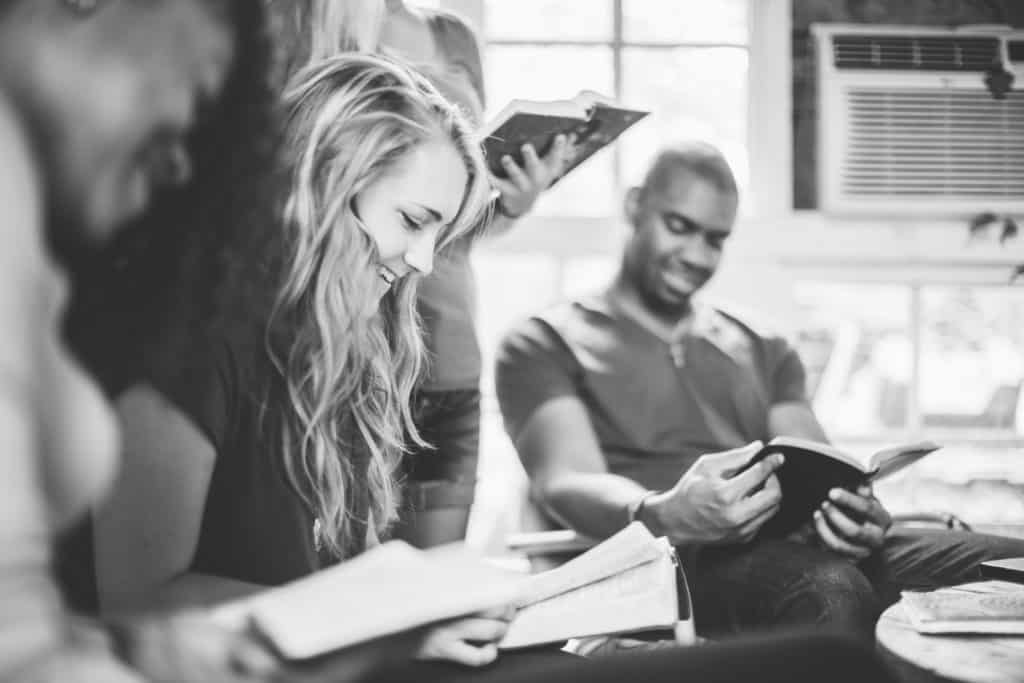 Solid, healthy relationships take time and patience. Some relationships take off after the first or second meeting. Usually, though, it is the steady, consistent interaction which creates the bond. They say it takes 7 points of contact to "sell" anyone. [source] So, too, with first-time church visitors. Rome wasn't built in a day and neither will be your relationship with your first-time guest. What needs to happen is a deliberate strategy to engage.
Churches need to keep the conversation going, collect visitor data to personalize the interactions, and integrate that data with other communication systems to help forge the bond.
I. Cultivating/Building relationships: Forget text; let's talk about relationships.
In the 'old days' before smartphones, many of us ran home after school, excited to get online and see who was in our chat room. Remember?
It's the same with effective texting. You know those 4-letter words we shouldn't say? If there was a 5-letter word list for texting, the first one would be "blast".
Mail blasts and auto messaging are not recommended
The replacement is relevant campaigns and individualized follow-up.
That means sending more than just text, like emoticons and pictures. Personalizing the messages so they feel human, friendly, and specific to that user. Re-using keywords is suggested. This familiarity helps people feel so comfortable with the opt-in process it becomes a habit.
Hi (name). How's it going? (suitable emoticon) Missed U last Wed. at the prayer meeting. Look fwd to seeing U tonite.
Congrats, (name)! Heard you had a baby girl. (small icon: baby bottle, rattle, or bunch of flowers) How wonderful. Hope all is well.
II. Collecting and tracking data: taking the first steps
Proper communication requires proper data. One of the first steps is collecting additional user-specific data. This is usually done using tags or custom fields. Collecting user-specific data creates a healthy, personalized, church communications system by organizing contacts into groups, such as the Youth Study Team. But it goes beyond more than just grouping contacts. An example is adding a 'prayer' tag to those who mention that need. Then, you can follow-up with "Need prayer?" to just those tagged contacts. You now will be able to create broader groups of contacts as well as tagged contacts to help you segment your list and communicate what your audience wants.
Think about Twitter lists vs. hashtags or Facebook broad groups vs. Facebook demographics data used in ads, etc.
Overall, collecting user-specific data is a management tool for RELEVANT simple/ complex campaigns + group vs. individual communications. It gives you the tools to stop "blasting" all and reaching few. Your list is more than numbers.
Top churches are developing people profiles through intelligent data capture.
III. Integrating the data: You've got the information; what's next?
Many churches are already using other excellent communication systems such as sharing, listening, or inviting. Even others are collecting data and sending smart messages. One thing that top churches are doing is making sure that their systems talk to each other. Is your church doing this, too? If not, this creates a situation where the same data has to be manually entered into more than one system. The result? Time-wasting repetition + chances of inaccuracy as data keeps being entered and re-entered.
E.g. Imagine doing this first-time guest follow-up sequence: You simply place a graphic up in the welcome center of your church during your guest welcome segment that says, "First time with us? We have a special gift for you. Text WELCOME to 888-333-3333." You will then either send them to a digital connect card or better, trigger digital connect texts where you can collect additional info like name and email. Will you have to come back that evening and merge that data into your email newsletter like MailChimp system or your Church Management system? NO! You can automatically send this information over to specific groups or lists where you may have a few additional
Will you have to come back that evening and merge that data into your email newsletter like MailChimp system or your Church Management system? NO! You can automatically send this information over to specific groups or lists where you may have a few additional automation occurring or at the minimum, allow your team members to access the information they need without waiting for someone else to email them the list of names.
Top churches want that data to be sent automatically to the next step and prevent people from falling through the cracks due to holes in the process.
Remember, to be more effective in communication, you need to have a digital strategy. This means sharing Jesus with others digitally so people are moved through the stages of discipleship. When you have systems talking to each other, you can maximize your time while simultaneously minimizing errors, reducing volunteer staff frustration, and preventing visitors falling through the cracks along the way.
So what about solutions that offers all of this in one tool. Easy, right?
Not quite. Chances are you will outgrow that tool within weeks if you are following a church digital strategy. Besides, there are only a handful of companies (like super big boys such as Google) who can offer tons of things in one app. Even so, they are usually ineffective when going outside their niche.
Church vendors that lure you in with having everything all-in-one are stockpiling options to increase the perceived value of the product without thinking about the bigger picture.
And even if they do, they would not be able to adapt to the changing needs within the digital space.
That's why it's important not just to look at all the add-ons but also consider all the tools that you need for a full communications strategy, including guest follow-up for example, and ensure these tools can speak together. If you need to switch out any of those digital tools, it will be super easy to do and you can continue to use the digital tools that are working.
Your church texting system should integrate with the other systems you are already using, reducing errors, and making much better use of your (and your team's) time.
So, you are ready to Level 2 your text strategy.
Before diving in, remember these Simple Rules.
Usually creating a campaign is relegated to the advertising department and would be used to sell a product. For you and the church, it will be used to sell your message services to your members. You want to use the service effectively and keep your members reading and responding to your messages. In order to do that you should follow these steps to keep them tuned in to Jesus:
Respect your members' privacy. Never give out any of their information either in social media or in a text message. Your members may be happy to supply their own number in a text message or allow you to do so but never do this without their permission.
Integrate your messages into social media. Sending out a text message using SMS is just a start. Sending them to social media sites like Twitter and Facebook enhances the conversation and reaches, even more, people. Using messaging in this way creates a cross-platform campaign that has been proven successful.
Develop a digital strategy, put it in place, and use it. When thinking about an effective strategy, a general rule-of-thumb is to visualize your audience as a group of smart 8-year-olds. Then, focus on the strategy you've created instead of indiscriminate text blasting.
Encourage conversation. Create your messages in a way that make your members think and want to provide answers or comments. These types of open messages often provide you with insight into other ideas to create even more conversations.
Keep them tuned in. In most advertising campaigns, there is a bonus provided to members for speaking up or continuing a conversation. You, too, can provide bonuses by offering a point system and handing out points to those members who provide thoughtful comments. If you are trying to reach youths, you may want to create a game they can play with a conversation. Posting winners to games or celebrating those who have the highest point total during a weekend service provides a joining incentive for those not engaging in the conversation.
Timing is everything. Choose the time of day wisely. If you want to reach a specific sub-group of your members you will want to think about the time of the day and the day of the week that they will most likely be available to chime in on a conversation or read a message.
Keep it simple. People tune out when a conversation becomes lengthy. Shorten the conversations up by providing new points of interest. Remember you only have 160 characters to communicate your message.
Texting DOES work and IS effective, provided your church knows how to use it AND you have a text messaging system that has the elements you need. Many systems include modules so you can do the things you should be doing now.
PastorsLine is one of the rare systems which has been built with a forward-thinking philosophy to enable you to do what you should be doing NEXT.
This is why PastorsLine…
has opted to be a safe and easy-to-use cloud-based application, ensuring that you will always have the latest version of the software automatically downloaded to your mobile device.
has been modeled on that feeling of being connected with other human beings. Not a mechanical texting system but a social communications method.
has created a hybrid approach that offers churches and ministries access to both short and long code features.
has been designed to be compatible across the board, seamlessly integrating with the systems you are most likely already using, saving time and money, with the ability to reach MORE people. We are 100% focused on ensuring OUR tool fits within YOUR digital strategy.