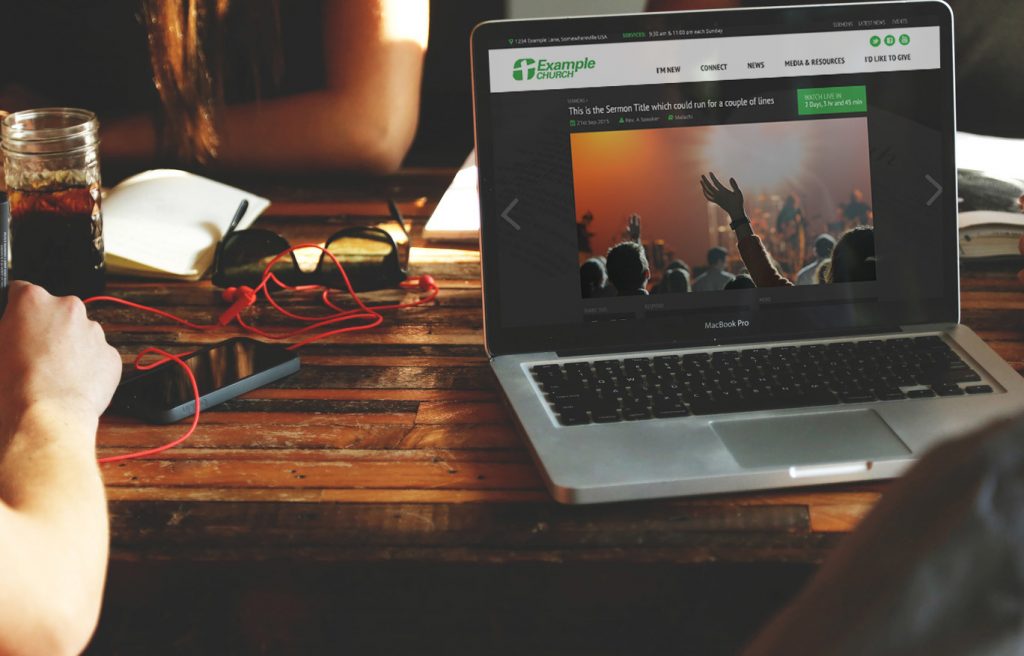 In our previous post about church online, we talked about how your church can reach out to a new, digital mission field. I have been helping businesses, churches and ministries with digital and mobile marketing for years now and I recently saw that Jay Kranda, the online campus Pastor at Saddleback Church, had a video series about church online.
His talks really resonated with my own experience, so I wanted to do a few blog posts, looking at some of his ideas and discussing them in the context of my experience of what churches are doing with online ministry.
The first post was about the big picture of bringing your church online. This means more than just providing content and streaming sermons. It means replicating your church's vision and values, using the right digital resources. In order to do this, there is a need to create a process – a funnel that moves people from an initial interest in your church, through conversion, to growth. It ultimately should guide your visitors to become full members of your church and to reach Christian maturity. In this post, we will talk in more detail about how to set up this process.
The Challenge: Follow Up
In his video series, Jay Kranda says,
"The biggest thing that a lot of churches miss is the follow-up and further steps."
In my experience, it is "easy" to put up a recorded lesson or to run a live webinar. The challenge is to get your audience to respond and engage in a process that leads them deeper. There needs to be a clear call to action (CTA), as well as systems and automated processes in place to bring people to the next step.
Many businesses (including the ones I have coached) have already successfully integrated this process to help them market their ideas. They offer great content that solves their audience problems, without making a "loud" sales pitch. This helpful and valuable content builds trust between the business and its audience. When people are ready to purchase something that solves a problem or fills a need, they are going to turn to the business that they already trust.
I call this the Jesus Model – the concept businesses get, that churches sometimes forget (or don't see the connection). As we read through the best marketing guide for churches, the Bible, and the best example, Jesus, we can begin to see a very clear pattern.
When Jesus encountered someone, he always did something to add value to their life, before inviting them to a deeper commitment. When bringing your church online, the same principle applies and the same thought process should be considered.
Churches should have content online, especially strategic live broadcasts, that adds real value to people's lives. Then, visitors should be invited to enter the church's funnel and begin a process of follow-up steps that culminates in a decision to follow Christ more deeply. This is exactly what Jay has done at Saddleback, and I will show you the simple formula and how you can start putting this together for your church's online campus.
Saddleback's Model
As we previously hinted, Saddleback's online campus makes sure that each page invites the visitor to take action. Let's talk through this in detail.
On the first page of the online campus, there is an opportunity to watch the most recent service. First, however, visitors watch an introduction by Jay Kranda. During this introduction, Jay invites people to take part in a small group.
People are more likely to take action if they are asked. Simple right? Just be clear and specific while focusing on the value for your audience!
At this first moment of contact with a visitor, he is already suggesting ideas for getting involved in a small group and taking the next step. Below the video, there are a number of response elements, designed to invite users to take the next step and submit contact information, so that further follow-up communication is possible.
On that page, we can group the display elements into 3 categories, all sharing the same purpose: to encourage the user to take action.
The main CTAs – The meat (Respond, Connect, Join, Support and Contact).
Suggested CTAs (New here?, related stories, give, social sharing).
'Convenience' CTAs (video issues, notes, archives, times, download app (not shown) etc)
These call the user to take action based on what they are interested in. Just having awesome livestream production and great content is just a part of it. Ensuring that you are allow the user to take action as the Spirit leads (or things break), is going to be important.
Quick note – the 'give' option is NOT the main CTA. It's included, but the entire online campus page is focused on the value for the audience. #JesusModel
Saddleback's main goal is to get visitors into small groups, so they explicitly invite people into these groups. Your church may have a different goal. Whatever your goal, you must have explicit components on your church's online page that invite people to move toward it. The content and layout elements on your page must invite people to the next step and they should provide a way to follow-up, by making a personal connection.
If your church cannot make the changes to your current website, there is a free tool that you can use to set up your church online. Church Online Platform allows you to not only place content online, but also create a process for following up with your visitors, so that they can take further steps toward conversion.
Automating the Process
One great tool to nurture people through a process is email. Email allows you to personalize content, respond to user behavior and continue to build a relationship by repeatedly connecting with your visitor.
In a case study of Elmbrook Church, you can see how email is effective in getting people to follow through, with a faith-formation class about marriage. Participants commit to an eight-week class on Christian marriage. On Sunday, they receive an email with the agenda for the week. Then, on Friday, they receive a survey email asking them to report on how they went with the materials. The regular emails keep people connected and engaged with the class for eight weeks. They also let the church leaders know how people are going with the class.
Email automation allows you to continue your personal connection with your visitors, but to make the process scalable so that more people can participate in the experience, emails can be automated based on the behavior of your visitors, so that each visitor to your site receives content that is valuable to them.
How they interact with your content, both on the site and through the emails they receive, will determine the direction of future emails. This nurtures your visitors through a process that you design.
One great tool that you can get started for free is Mailchimp. Just using a free Gmail or Yahoo account would not do. Check out this great article Using Email for Church Communication to Share Your Story
Email continues to be a good way to deliver great content to your virtual community. It really helps to track what your audience is doing, whether it is progressing through a course, participating in a small group or making purchases.
The key is to offer people valuable content. Most people ignore spam, but if your emails contain content that people look forward to receiving, they will get opened and read.
Online Classes and Small Groups
The next step in your flow, after a weekend service, is to usually participate in a class or to join a small group. One organization that I worked with had an integrated automated system that provided 10 learning modules. They also set up a LinkedIn group, to promote discussion and connection among the participants of the class. This also included a bi-weekly live coaching call. Students could interact directly with the course creator and as well as one another, which enhanced their learning experience.
Many large churches have their own custom-built solutions for classes and small groups, but there are lots of low-cost or free resources to help run online classes and small groups. Some of these may be included with your Church Management System, while others could be stand-alone products.
For classes, you can easily set up an unlisted video series on Youtube or Vimeo. For groups, you can also start with Facebook groups or a Twitter list, for free. Setting up a system for running classes and small groups is important, because these are often the next steps of your funnel process. Start with streaming sermons and then move people into Bible studies, classes and small groups.
Once you decide what response you would like people make, you want to put together an automated system to help people move forward through the process.
As Jay describes in his videos, visitors that find your website should be invited by the content and the layout to take the next step. Your website should have a number of inviting hooks, to help people engage and respond.
Once the response is made, it should trigger an automated process to bring the visitor to the next step. With the right digital tools, setting up your church online is not hard – just follow the steps, beginning with step 1.
Remember: church online is where you are turning "on" your off-line church. If you are just starting, begin with understanding the processes within your current church and then, strategically, duplicate those processes online, using some of the tools we have spoken about in this post.
An effective online process will allow you to reach this new, global, social, and mobile mission field.