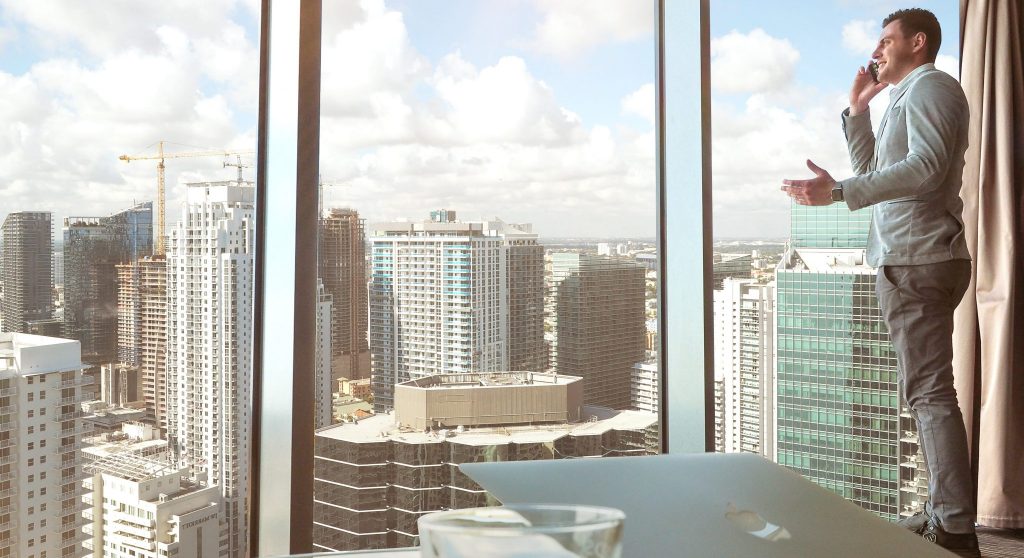 Mark Cuban has joined the group of celebrities who are sharing their "phone numbers" with the public.
Why?
In an article in The Dallas Morning News, Cuban explained that he thinks it's important for businesspeople to be accessible. Cuban wants to set an example of this and tries to get back to 20-30 texts each day.
Other celebs, such as Ashton Kutcher, Jennifer Lopez, and Kerry Washington say it's about being more accessible to the public.
However, it's not his PERSONAL phone number which Cuban is giving out and the same goes for the other celebrities.
Cuban and the others are part of a service called Community. They can send and receive texts to fans and budding entrepreneurs in a personal way without giving up their privacy.
Let's look further…
Community is the renamed app of Matthew Peltier. In 2017, Peltier was looking for funding for his new platform: an app created to allow conversation between fans and social media stars.
Despite receiving about $7 million in the capital, the app didn't go anywhere…until Ashton Kutcher joined the group.
Following Kutcher's public announcement to 'get in touch with me', other stars jumped on the bandwagon.
Isn't it all just a media ploy?
On the one hand, fans DO get to connect with the celebs. While much of the celeb's conversation is automated, they do occasionally send out live messages or even respond to specific, individual messages.
Granted, though, it is not quite the 'personal' contact that many fans might like.
And there is a real reason that the celebrities are joining a texting platform at all— it's about collecting the most important form of communication a person has: their cell number.
Mark Cuban and other celebs can send messages of their choice to people who opt-in. If done well, they can engage and also get people to move towards their agendas.
OK, but churches have been using texting for years.
That's right, and if your church is doing so, good for you! Like the celebs, you are (and have been) engaging and moving people towards your church's agenda.
And the fact that the celebrities are just catching up to you proves you are on the right track—and if you aren't, you should seriously consider changing lanes.
Here's why you should continue (or begin):
#1: Texting is not dead, nor is it a fad
The celebrities have realized just how powerful bulk texting can be. They and their marketing managers understand that bulk texting gives them a significant advantage.
Churches, too, can use the power of bulk texting to connect more and better with their members, building solid, human relationships.
But it's not about blasting information out. Rather, it's about 2-way, personalized communication using a format that has a 98% open rate (as opposed to email which has 20% or even pushes notifications which have between 40-80%).
#2: Texting apps are personal but protect your privacy at the same time
You probably remember that Cuban and their other celebrities are not giving out their personal phone numbers.
All cynicism aside, this is an important point: bulk texting to a wide audience can be overwhelming. To keep it effective, pastors and small group leaders should get a unique number which people can text…but not their own mobile phone numbers.
Is personal privacy so important?
Yes, it is. Pastor and church leader burnout is a significant issue. Recent statistics say that 10 percent of pastoral attrition is due to burnout.
While you want to give all you can to your congregation, drawing a line between public and private is vital. A bulk texting app lets you spend time with your family and have 'me time' for yourself.
#3: Cloud-based texting has many advantages
Cloud-based apps like Community offer lots of advantages.
One of the great advantages of texting using a cloud system is you don't have to be the only one doing the work. Assistants can help or you can use automation. Both methods continue to give a high level of personal engagement, but you are not the one doing it.
Assistants, such as church volunteers, can send and respond to texts, yet the receiver will feel that the message came from their pastor or small group leader.
Using automation means you can create 'set them and forget them' digital connect texts and campaigns which continue to roll over (and over), communicating as needed 24/7/365.
Besides strengthening your relationships with your church members, you can use cloud-based bulk texting to reach out to new visitors in a meaningful way.
In other words, pastors and small group leaders can share the workload and protect their privacy while at the same time INCREASING their communication with their congregations and first-time guests.
Other benefits include unlimited users and high cost-effectiveness. Check out further advantages at this link.
#4: It's a familiar form.
People have been using 10-digit numbers for years—our telephone numbers. We are used to them. They represent a human, non-spammy form of communication.
Numbers with 10 digits are therefore familiar, not like shortcodes which are associated with many negatives.
Find out more about why long codes are a better solution here.
Got it, but why a texting app? My phone comes with free texting.
Texting on your personal phone is good for your personal life such as your family and friends.
Remember the boundary we mentioned before between public and private?
Much as pastors and church leaders care about each and every person in their flocks, to continue to be effective, they must make this boundary and keep it.
And texting apps are sooo not like phone text apps…
Bulk texting apps, like PastorsLine, allow you to capture personal data. This lets you send out the same text message to many people but personalize it with their name for a more human feel.
And since one of the data capture items is a birth date, you can opt to send personalized birthday wishes on their special day.
Another difference is that when someone replies to a group message, only you get the message…not the whole group.
You can schedule messages to go out on future dates and at specific times. In other words, create the messages when you have the time, and then let them do the work when you are busy.
Texting apps also offer engagement tools such as polls and contests.
So, the main push is for pastors and leaders to include bulk texting as part of their church's digital communication strategy.
Is that a realistic goal?
Absolutely. There are a number of bulk texting services available which will allow you to be in touch with your congregation.
The big advantage of using such a service is using the #1 digital communication method—texting—to be accessible to your members in a human, personal, 24/7/365 way without going over that 'personal privacy' line.
Are all bulk texting services equal?
Nope. PastorsLine, for example, is designed with churches and ministries in mind. Also, the PastorsLine team is filled with people who know churches intimately. We've attended them, been part of their management teams, and worked with them for many years.
Thus, our PastorsLine 'insider perspective' puts us in a unique place to serve you.
What about pricing?
We've set it up so that our costs are shared with other like-minded people. This lets us adapt to your church's needs in a more affordable way.
Our Inception Plan is less than $10 per month.
Setting up texting with your members is a great way to gather data and be able to follow up with that person or group of people in order to foster a healthy church.
Ready to take a tip from the celebs and be more accessible to your congregation?
Not yet, but I'd like more information about texting in churches.