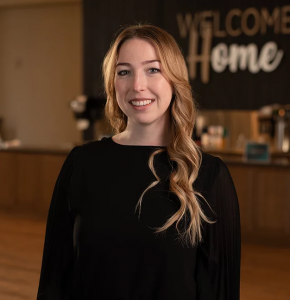 When the kids in the Kids Ministry need mom and dad, whose mobile phone do you use to send the text? The problem, of course, is not the lack of phones—almost everyone's got one. The issue is the number. When mom or dad gets a text about their child from a number they don't recognize, they might think it's spam. Also, mom and dad now have a variety of numbers connected to the Kids Ministry. If they have a question, which number do they use?
Stacey Sampson [Children's Ministry Coordinator of The Father's House Church in Sturgeon County, Canada] uses the PastorsLine (PL) church text messaging service to solve all the issues above.
Here are Stacey's answers to our 5 Minute online interview.
How were you communicating before PastorsLine?
Stacey told us: "Before PastorsLine, we were using volunteers' cell phones to text parents whose children need them in Kids Ministry."
What specifically was your goal in using PastorsLine?
Stacey shared: "PastorsLine is solely used for Kids Ministry! We sometimes use it for announcements, but often it is our communication tool to parents while their kids are in Kids Ministry. If a parent is needed, our sign-in team shoots them a text from PastorsLine."
Please describe the 'win(s)'. Which specific aspects of PastorsLine helped you?
According to Stacey: "PastorsLine changed the way we communicate which has been extremely helpful. Before we used it, we had to go through a few hoops to obtain parent numbers, input them in our phones, and then text from a personal device. Now it's an easy, one step, and volunteers don't need to use their own phones."

Sound like a solution to your Kids Ministry texting needs?
Yes, take me to the free, $0 for 30 days trial.
Probably, but I'd like to know more about texting in churches first.